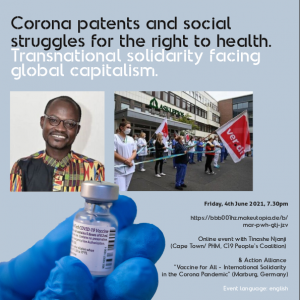 Friday, 4th June 2021, 7.30pm
https://bbb001hz.makeutopia.de/b/mar-pwh-gtj-jzv
Online event with Tinashe Njanji (Cape Town/ PHM, C19 People's Coalition) and the Action Alliance "Vaccine for All – International Solidarity in the Corona Pandemic".
Event language: English
Organizations and alliances in countries of the Global South have shown many times in the past months which steps are necessary for a globally just response to the pandemic. They defend themselves against neocolonial-capitalist dependencies and connect their struggles.
An outstanding example of this is the broad coalition of the C19 People's Coalition in South Africa, which combines its political action on the pandemic with demands for a public health reform and national legislation on intellectual property rights. Under the slogan Black Lives Matter, they are demonstrating for the waiver at the WTO and for global vaccine justice. Rightly, they and many others are also turning to us with demands for resolute transnational solidarity.
What is the current work and perspective of C19? What does it mean to carry these demands on the streets of Marburg? What are TRIPS waivers and why should Biontech & Co be expropriated? What gives us hope, how do we deal with feelings of powerlessness and how do we organize ourselves?
These questions and many more will be discussed at the event. After two inputs from Tinashe Njanji and the organizers of the demonstration on June 6, we want to get into conversation with the participants and share experiences and analyses.
Tinashe Njanji is a native of Zimbabwe, a long-time human rights and social justice activist in South Africa working in the field of primary health and community mobilization, co-founder of the Coalition for Social Justice in South Africa in 2008 and the Right2Know campaign in 2010 for the enforcement of constitutional rights to life, dignity, equality, liberty, security, freedom of expression and access to health care. He is currently the coordinator of the NGO People's Health Movement-South Africa and currently involved with the C19 People's Coalition.
More information: https://patentefrei.noblogs.org